Lush Prize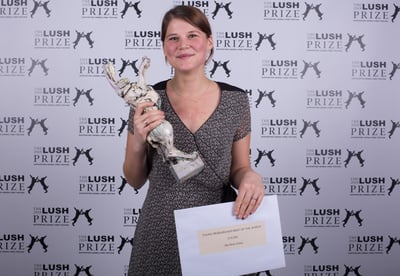 The cosmetics company Lush has rewarded Aline Chary, a researcher at the Luxembourg Institute of Science and Technology, for her work in designing a three-dimensional in vitro lung model as part of her PhD thesis.
This award emphasises this model's great potential: within a few years, it could replace the tests on animals currently used in industry to test for the respiratory sensitisation of products.
On Friday 16 November 2018, at the Lush Prize Awards ceremony in Berlin, Germany, Aline Chary, an engineer in cellular biology at the Luxembourg Institute of Science and Technology (LIST), received one of the Lush Prizes in the "Young Researchers – Rest of the World" category. Thanks to her work on a three-dimensional in vitro lung model, Aline Chary was picked from more than ten finalists to receive the €10,000 prize, the purpose of which is to enable her to pursue a career in non-animal experimentation.

A model that will eradicate the use of animal testing
This accolade from the Lush cosmetics company is a reward for long years of research, which made it possible to develop an innovative model that enables industry to test for the respiratory sensitization of products without using tests on animals. The technology was developed by Aline Chary as part of her PhD thesis, which she pursued at LIST from 2013 to 2017 in partnership with the University of Trier, Germany.
At LIST, Aline Chary was supported in her research by the environmental health team. This team focuses on assessing the effects of exposure to pollutants and developing tools for hazard assessment, and it has proven expertise in the development of complex 3D in vitro models for risk assessment purposes.
Full article available on Chronicle.lu
PETA Early Career Scientist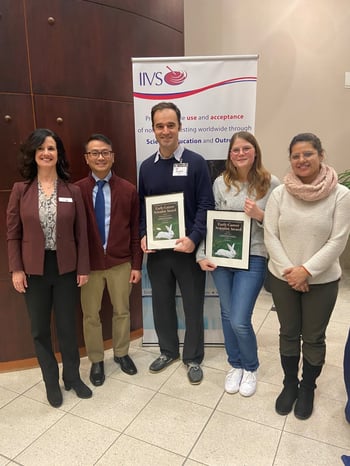 For nearly 40 years, PETA has rescued countless animals from deadly tests. PETA scientists are making sure that the next generation of researchers continues to embrace real science that saves lives—both human and nonhuman.
The PETA International Science Consortium Ltd. recently chose two winners of its third annual Early-Career Scientist Award, which offers young researchers a grant to attend the prestigious Institute for In Vitro Sciences Practical Methods for In Vitro Toxicology Workshop.

Dr. Baylor Steele, a toxicologist with the U.S. Environmental Protection Agency (EPA), and Dr. Aline Chary, an engineer in cellular biology with the Luxembourg Institute of Science and Technology in Belvaux, Luxembourg, were standouts in a pack of highly skilled applicants from around the world.
Countless animals are still used in experiments. Toxic chemicals are applied directly to their eyes, pumped into their stomachs, or rubbed onto their skin. But the world is moving away from using animals in toxicity testing. Earlier this year, the EPA announced that it plans to end toxicity tests on mammals by 2035, and with hard work and a little luck, it will take effect sooner and include all animals.
Human-relevant, animal-free research methods are vital to a career in toxicology and are being widely adopted by industry leaders. Despite these changes, graduate school programs often lag behind in providing a comprehensive background in these methods. The Science Consortium helps fill this gap by providing awards and a dedicated website on opportunities for early-career scientists.
Full article available on Peta.org
3R Prize Luxembourg 2022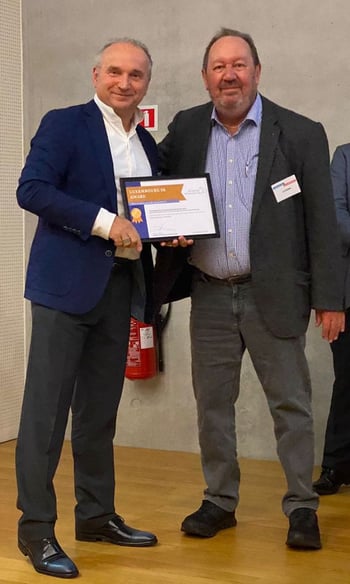 On 20 October 2022, the "Second Luxembourg 3R Symposium" was held, an event highlighting the excellent work that Luxembourg scientists and government are doing to advance the 3Rs principle (replacement, reduction and refinement) to further protect animals in laboratories.
The symposium, which was attended by internationally renowned researchers and representatives of animal protection organisations, provided an opportunity to discuss scientific advances in the field of animal experimentation, both at national and European level, as well as best practices to improve the quality and ethical aspects of research projects conducted in Luxembourg.
On this occasion,
our member organisation the
Lëtzebuerger Déiereschutzliga
also awarded a prize for a contribution to the replacement, reduction and improvement of the use of animals in research. The 3R prize was awarded to the "Environmental Health Group" of the Luxembourg Institute of Science and Technology for the
development of in vitro models of the human alveolar region
. This project is well integrated in international consortia and EU projects, it was able to establish good connections with regulatory bodies and industry, and it has the potential to address scientific and ethical concerns when using animals to study the human respiratory system.
ESTIV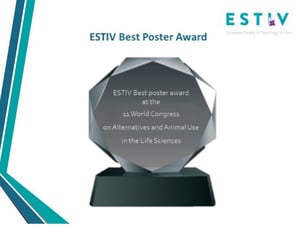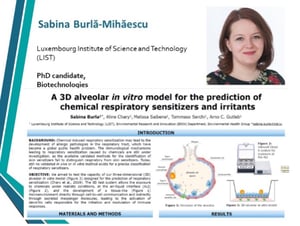 Sabina Burla, engineer in the Environmental Health group of ERIN, received the European Society of Toxicology In Vitro (ESTIV) Best Poster Award at the 11th World Congress on Alternatives and Animal Use in the Life Sciences in Maastricht, The Netherlands, that took place as a virtual event between 23 august – 2 september 2021.
The quality of the work presented in the poster entitled "A 3D alveolar in vitro model for the prediction of chemicals respiratory sensitizers and irritants" was highly appreciated by the ESTIV award committee and the innovative approach in the filed of replacement of animal testing was rewarded.
The data presented in the poster is the outcome of the VitralizeMe project funded by the FNR and it shows the collaborative efforts of Sabina Burla, Aline Chary and Melissa Saibene.
SOT PostDoctoral Award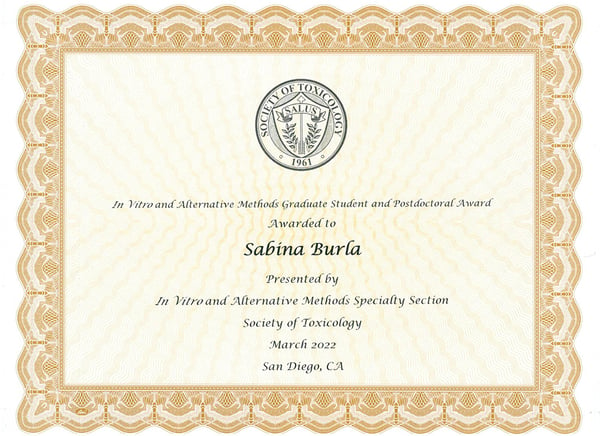 * Scientists involved in the ALIsens technology were LIST employees at that time.